Hello my loves! How are you guys? I'm feeling pretty good today, I finally feel really really awake and happy and motivated after my exhaustion following exams. I'm ready to be active on here and on my Instagram and Twitter, and I'm in a reading and writing mood right now! I'm writing at least two or three posts today, and I'm working on getting through this list and I'm hyped 🙂 This month for the most part I'm concentrating on reading some series and on finishing off ones I've started. During the school year I tend to not have time to read full series, or at least not in a timely manner (although at least I don't take five months to read Six of Crows, @ my boyfriend), so I thought I'd pick some of them for August!

Now, let's finish off my ramblings, and without further ado, let's get into my August reading list!
Disclaimer: all the factual info provided below is from GoodReads, ratings are not my own (and ratings on GoodReads' site may change as reviews are added/updated).
I put information about the first book of the series that I want to read in their entirety, as well as my reasoning for reading them, and then listed the books from series I need to finish separately.

---
Full Series
---
A Series of Unfortunate Events
The Bad Beginning by Lemony Snicket
Genre: Fiction, Children's, Middle Grade
Publisher: Scholastic, Inc.
Publishing Date: September 30th 1999
Pages: 176
Rating: 3.91/5
Synopsis: Dear Reader,
I'm sorry to say that the book you are holding in your hands is extremely unpleasant. It tells an unhappy tale about three very unlucky children. Even though they are charming and clever, the Baudelaire siblings lead lives filled with misery and woe. From the very first page of this book when the children are at the beach and receive terrible news, continuing on through the entire story, disaster lurks at their heels. One might say they are magnets for misfortune.
In this short book alone, the three youngsters encounter a greedy and repulsive villain, itchy clothing, a disastrous fire, a plot to steal their fortune, and cold porridge for breakfast.
It is my sad duty to write down these unpleasant tales, but there is nothing stopping you from putting this book down at once and reading something happy, if you prefer that sort of thing.
With all due respect,
Lemony Snicket
Purchase: Barnes & Noble / Indigo
I've been wanting to read these foreverrrrrr! I started this series on the last day of July, but I think the series counts as an August read. I know these are middle grade, but I adore them as some fun quick reads, and I think I'll be able to finish all thirteen within a week or less 🙂
---
Anna and the French Kiss
Anna and the French Kiss by Stephanie Perkins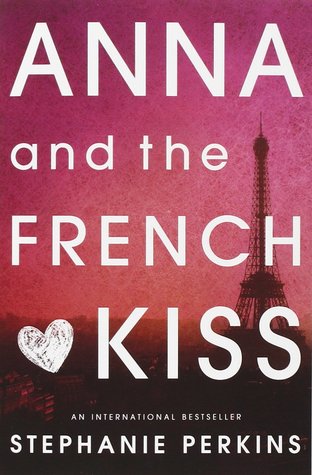 Genre: YA, Romance, Contemporary
Publisher: Dutton Juvenile
Publishing Date: December 2nd 2010
Pages: 372
Rating: 4.04/5
Synopsis: Anna is looking forward to her senior year in Atlanta, where she has a great job, a loyal best friend, and a crush on the verge of becoming more. Which is why she is less than thrilled about being shipped off to boarding school in Paris–until she meets Étienne St. Clair. Smart, charming, beautiful, Étienne has it all…including a serious girlfriend.
But in the City of Light, wishes have a way of coming true. Will a year of romantic near-misses end with their long-awaited French kiss?
Purchase: Barnes & Noble / Indigo
One of my best friends lent me the first two books in this series and I'm hyyyped! I've been meaning to read these for ages and I just think they'll make fun, easy, contemporary summer reads. I'm so so excited to read these, so many people have recommended these books to me, and it's such a popular read!
---
Dorothy Must Die
Dorothy Must Die by Danielle Paige
Genre: YA, Retellings, Fiction
Publisher: HarperCollins
Publishing Date: April 1st 2014
Pages: 452
Rating: 3.83/5
Synopsis: I didn't ask for any of this. I didn't ask to be some kind of hero.
But when your whole life gets swept up by a tornado – taking you with it – you have no choice but to go along, you know?
Sure, I've read the books. I've seen the movies. I know the song about the rainbow and the happy little bluebirds. But I never expected Oz to look like this. To be a place where Good Witches can't be trusted, Wicked Witches may just be the good guys, and winged monkeys can be executed for acts of rebellion. There's still a yellow brick road – but even that's crumbling.
What happened? Dorothy.
They say she found a way to come back to Oz. They say she seized power and the power went to her head. And now no one is safe.
My name is Amy Gumm – and I'm the other girl from Kansas.
I've been recruited by the Revolutionary Order of the Wicked.
I've been trained to fight.
And I have a mission.
Purchase: Barnes & Noble / Indigo
Yet another one of my close friends lent this to me to read (along with The Da Vinci Code and Turtles All the Way Down), and I'm really looking forward to reading this! I adore retellings, and this story is even better than a simple retelling. This series sounds dark and sinister and corrupt and that is exactly my cup of tea when it comes to fairytale-esque stories, and in particular retellings. I love when an author takes a story that is just lovable and charming and just a little bit too sweet and turns it into something so perverse. Wicked twists on fairy tales and children's novels are my absolute favouriiiiiiite 🙂
---
The Kane Chronicles
The Red Pyramid by Rick Riordan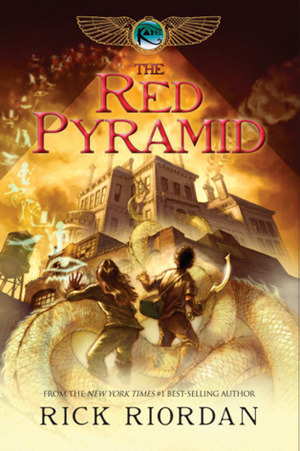 Genre:Fantasy, YA, Mythology
Publisher: Disney-Hyperion
Publishing Date: May 4th 2010
Pages: 516
Rating: 4.07/5
Synopsis: Since his mother's death six years ago, Carter Kane has been living out of a suitcase, traveling the globe with his father, the brilliant Egyptologist, Dr. Julius Kane. But while Carter's been homeschooled, his younger sister, Sadie, has been living with their grandparents in London. Sadie has just what Carter wants—school friends and a chance at a "normal" life. But Carter has just what Sadie longs for—time with their father. After six years of living apart, the siblings have almost nothing in common. Until now.
On Christmas Eve, Sadie and Carter are reunited when their father brings them to the British Museum, with a promise that he's going to "make things right." But all does not go according to plan: Carter and Sadie watch as Julius summons a mysterious figure, who quickly banishes their father and causes a fiery explosion.
Soon Carter and Sadie discover that the gods of Ancient Egypt are waking, and the worst of them—Set—has a frightening scheme. To save their father, they must embark on a dangerous journey—a quest that brings them ever closer to the truth about their family and its links to the House of Life, a secret order that has existed since the time of the pharaohs.
Purchase: Barnes & Noble / Indigo
I read the first book out of this series a loooooong long time ago, and really really liked it, then promptly got distracted by a new series and never got back around to it. I really enjoyed Percy Jackson and Heroes of Olympus, but I've been kind of growing out of Riordan's writing style; it's a tad too simplistic for me. I want to give these a quick read before I start finding them too immature to even read, because I know I always vibe with his writing enough that I can easily finish multiple books in a single day, so I'm looking forward to feeling the warm, fuzzy feelings that I've always felt picking up a Riordan novel and just plowing through it!
---
Unfinished Series
---
Wayfarer by Alexandra Bracken
Crooked Kingdom by Leigh Bardugo
Legendary by Stephanie Garber
King's Cage by Victoria Aveyard
Our Dark Duet by Victoria Schwab
---
Aaaaaand that's it for my August TBR, let me know what you're reading this month, and what you think of my choices. Ooooh and also let me know if you've read any of the above series and books! Thanks for reading lovelies!!
xx Ella
Check out my social media! Follow or add me and I'll check yours out as well 🙂
Instagram / Twitter / GoodReads
Click to see my most recent post!