Hey guys, I hope everyone's well and that you're having a relaxing weekend! Today I thought I'd share with you some very hyped up books that I haven't read. A few things to note about this list: first of all, these are all books I want to read (although I'd be happy to write that as well, if you guys want it), there's just something that's kept me from actually tumbling down these particular rabbit holes. Secondly, these are only standalones, because my list would become a little too long otherwise. Third, these are (obviously) only some of the popular standalones I haven't read, again, because I wanted this to not drag on too much.
Now that that's out of the way, let's get into the popular books I haven't read!
---
Eleanor & Park by Rainbow Rowell
Genre: Young Adult, Romance, Contemporary, Fiction
Publisher: St. Martin's Press
Publishing Date: February 26th 2013
Pages: 328
Rating: 4.1/5
Synopsis: Two misfits.
One extraordinary love.
Eleanor… Red hair, wrong clothes. Standing behind him until he turns his head. Lying beside him until he wakes up. Making everyone else seem drabber and flatter and never good enough…Eleanor.
Park… He knows she'll love a song before he plays it for her. He laughs at her jokes before she ever gets to the punch line. There's a place on his chest, just below his throat, that makes her want to keep promises…Park.
Set over the course of one school year, this is the story of two star-crossed sixteen-year-olds—smart enough to know that first love almost never lasts, but brave and desperate enough to try.
So I've heard a lot of good things about this book, the actual only reason I haven't read this book is because contemporaries can sometimes put me into a bit of a slump. For whatever reason, unless the novel is really well written, they just kill my willpower to read!
---
Looking for Alaska by John Green
Genre: Young Adult, Fiction, Contemporary, Romance
Publisher: Speak
Publishing Date: December 28th 2006
Pages: 221
Rating: 4.08/5
Synopsis: Before. Miles "Pudge" Halter is done with his safe life at home. His whole life has been one big non-event, and his obsession with famous last words has only made him crave "the Great Perhaps" even more (Francois Rabelais, poet). He heads off to the sometimes crazy and anything-but-boring world of Culver Creek Boarding School, and his life becomes the opposite of safe. Because down the hall is Alaska Young. The gorgeous, clever, funny, sexy, self-destructive, screwed up, and utterly fascinating Alaska Young. She is an event unto herself. She pulls Pudge into her world, launches him into the Great Perhaps, and steals his heart. Then. . . .
After. Nothing is ever the same.
Now I'm in the minority here, but I really didn't like The Fault in Our Stars all that much. I didn't hate it, it just didn't live up to my expectations. Because of this, I'm a little hesitant to read another John Green book, but I'm planning on reading Turtles All the Way Down this month, and if I enjoy that, then I'll probably give this another shot.
---
The Night Circus by Erin Morgenstern
Genre: Historical Fiction, Adult
Publisher: Doubleday
Publishing Date: September 13th 2011
Pages: 400
Rating: 4.04/5
Synopsis: The circus arrives without warning. No announcements precede it. It is simply there, when yesterday it was not. Within the black-and-white striped canvas tents is an utterly unique experience full of breathtaking amazements. It is called Le Cirque des Rêves, and it is only open at night.
But behind the scenes, a fierce competition is underway – a duel between two young magicians, Celia and Marco, who have been trained since childhood expressly for this purpose by their mercurial instructors. Unbeknownst to them, this is a game in which only one can be left standing, and the circus is but the stage for a remarkable battle of imagination and will. Despite themselves, however, Celia and Marco tumble headfirst into love – a deep, magical love that makes the lights flicker and the room grow warm whenever they so much as brush hands.
True love or not, the game must play out, and the fates of everyone involved, from the cast of extraordinary circus per­formers to the patrons, hang in the balance, suspended as precariously as the daring acrobats overhead.
Written in rich, seductive prose, this spell-casting novel is a feast for the senses and the heart.
This book, I've heard some mixed things about, but the main reason behind me not having read it is actually just how long I've heard it takes to read. A lot of people say it's a pretty dense story, so I'm waiting until I have the time and patience.
---
The Perks of Being a Wallflower by Stephen Chbosky
Genre: Young Adult, Fiction, Contemporary
Publisher: MTV Books and Pocket Books
Publishing Date: February 1st 1999
Pages: 213
Rating: 4.21/5
Synopsis: The critically acclaimed debut novel from Stephen Chbosky, Perks follows observant "wallflower" Charlie as he charts a course through the strange world between adolescence and adulthood. First dates, family drama, and new friends. Sex, drugs, and The Rocky Horror Picture Show. Devastating loss, young love, and life on the fringes. Caught between trying to live his life and trying to run from it, Charlie must learn to navigate those wild and poignant roller-coaster days known as growing up.
I have absolutely no idea why I haven't read this! I've been wanting to forever but it keeps getting bumped further down my tbr, and lost in the hundreds of books I want to read. If I haven't read this by the end of this year, someone needs to harass me about it.
---
Thirteen Reasons Why by Jay Asher
Genre: Young Adult, Realistic Fiction, Teen
Publisher: Razorbill
Publishing Date: December 27th 2016
Pages: 352
Rating: 4.01/5
Synopsis: You can't stop the future.
You can't rewind the past.
The only way to learn the secret . . . is to press play.
Clay Jensen returns home from school to find a strange package with his name on it lying on his porch. Inside he discovers several cassette tapes recorded by Hannah Baker–his classmate and crush–who committed suicide two weeks earlier. Hannah's voice tells him that there are thirteen reasons why she decided to end her life. Clay is one of them. If he listens, he'll find out why.
Clay spends the night crisscrossing his town with Hannah as his guide. He becomes a firsthand witness to Hannah's pain, and as he follows Hannah's recorded words throughout his town, what he discovers changes his life forever.
Okay so I've heard this was good, and wanted to read it, but some people have told me that the way the author portrays mental illness in this story involves a lot of romanticizing it, and I don't know if I want to anymore. Let me know your thoughts if you've read it though, because I'm open to at least trying it.
---
Everything, Everything by Nicola Yoon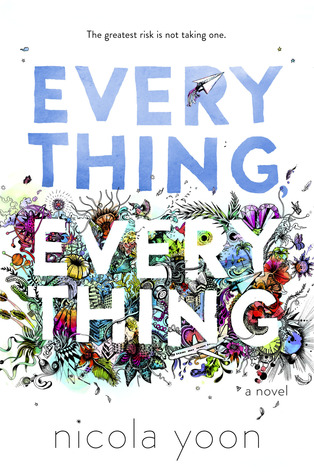 Genre: Young Adult, Contemporary, Romance, Fiction
Publisher: Delacorte Books for Young Readers
Publishing Date: September 1st 2015
Pages: 307
Rating: 4.1/5
Synopsis: My disease is as rare as it is famous. Basically, I'm allergic to the world. I don't leave my house, have not left my house in seventeen years. The only people I ever see are my mom and my nurse, Carla.
But then one day, a moving truck arrives next door. I look out my window, and I see him. He's tall, lean and wearing all black—black T-shirt, black jeans, black sneakers, and a black knit cap that covers his hair completely. He catches me looking and stares at me. I stare right back. His name is Olly.
Maybe we can't predict the future, but we can predict some things. For example, I am certainly going to fall in love with Olly. It's almost certainly going to be a disaster.
Another contemporary, the same fear of going into a reading slump, no other problems. Let me know what you think of it, because I really do want to read more contemporaries!
---
Aristotle and Dante Discover the Secrets of the Universe by Benjamin Alire Sáenz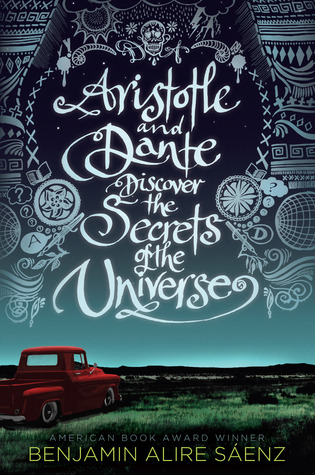 Genre: Young Adult, GLBT, Coming-of-Age, Realistic Fiction
Publisher: Simon Schuster Books for Young Readers
Publishing Date: February 21st 2012
Pages: 359
Rating: 4.35/5
Synopsis: Aristotle is an angry teen with a brother in prison. Dante is a know-it-all who has an unusual way of looking at the world. When the two meet at the swimming pool, they seem to have nothing in common. But as the loners start spending time together, they discover that they share a special friendship—the kind that changes lives and lasts a lifetime. And it is through this friendship that Ari and Dante will learn the most important truths about themselves and the kind of people they want to be
This novel I am going to read very very soon. I kept hesitating because I'm not the biggest fan of coming of age kind of stories, but I've been wanting to read more LGBTQIA+ stories, and apparently this is a popular one 🙂
---
Me Before You by Jojo Moyes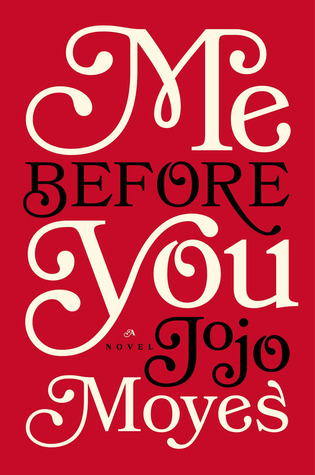 Genre: Romance, Fiction
Publisher: Pamela Dorman Books/Viking
Publishing Date: December 31st 2012
Pages: 369
Rating: 4.27/5
Synopsis: Louisa Clark is an ordinary young woman living an exceedingly ordinary life—steady boyfriend, close family—who has never been farther afield than their tiny village. She takes a badly needed job working for ex-Master of the Universe Will Traynor, who is wheelchair-bound after an accident. Will has always lived a huge life—big deals, extreme sports, worldwide travel—and now he's pretty sure he cannot live the way he is.
Will is acerbic, moody, bossy—but Lou refuses to treat him with kid gloves, and soon his happiness means more to her than she expected. When she learns that Will has shocking plans of his own, she sets out to show him that life is still worth living.
A love story for this generation, Me Before You brings to life two people who couldn't have less in common—a heartbreakingly romantic novel that asks, What do you do when making the person you love happy also means breaking your own heart?
So I was excited for this until I heard that Moyes portrayed Will as a burden of some sort at the end (someone spoiled it for me, which I'm a little annoyed about). Did this novel really show disabled people off in that light, or did I misunderstand? Because I'm unsure if I still really want to read this or not…
---
Thanks for reading, and let me know what popular books you haven't read, as well as what you thought of my little collection 🙂
xx Ella
p.s. If you have a blog, GoodReads, Twitter, Tumblr or Instagram and you want to follow each other, let me know!
Follow Me! Instagram / Twitter / Tumblr / GoodReads / 8tracks