Hey guys, it's Ella Grace. Happy New Year and happy holidays to everyone! I, for one, am very excited to be starting out 2018 with some goals in mind: concisely, I want to read more, write more, and blog more. I've already put together my rough TBR list for this year and set my GoodReads goal to 100 books (which I'm really hoping will pan out). Getting to my point, for the month of January I've chosen a few of those books that I'm hoping to read (although we'll see how that works out 😉 ), and I've also designated some books that I'll read if I get the chance.
Without further ado, let's get into my January TBR!
---
A Court of Wings and Ruin by Sarah J. Maas
This book I've been dying to read since I read its predecessor, so I've already started reading it as I'm writing this, and I'M IN LOVE (so far). For whatever reason, Rhys just kills me, I love him (just a little) too much. This will probably be my first review up on here, so follow my blog if you want to know my thoughts on that, follow my blog and/or my Instagram.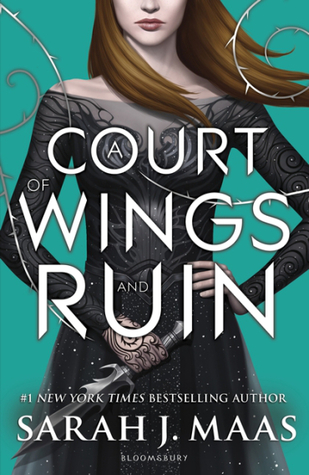 Genre: Fantasy, Romance, Young Adult
Publisher: Bloomsbury Childrens Books
Publication Date: May 2nd 2017
Pages: 699
Rating: 4.53/5
Synopsis: Looming war threatens all Feyre holds dear in the third volume of the #1 New York Times bestselling A Court of Thorns and Roses series.
Feyre has returned to the Spring Court, determined to gather information on Tamlin's manoeuvrings and the invading king threatening to bring Prythian to its knees. But to do so she must play a deadly game of deceit – and one slip may spell doom not only for Feyre, but for her world as well.
As war bears down upon them all, Feyre must decide who to trust amongst the dazzling and lethal High Lords – and hunt for allies in unexpected places.
In this thrilling third book in the #1 New York Times bestselling series from Sarah J. Maas, the earth will be painted red as mighty armies grapple for power over the one thing that could destroy them all.
Reviews: Chic Nerd Reads / Novel Knight / The Book Corps
Stores: Indigo / Barnes & Noble
Other Links: ACOTAR Wiki / SJM Bio / SJM Wikipedia
---
Six of Crows by Leigh Bardugo
I know, I know, I know. I'm super late hopping on this train, but I've been wanting to read this book forever and I've heard such great things about it. I recently had a few friends recommend this book to me yet again, which resulted in me buying it and now (at last) reading it!
Genre: Fantasy, Young Adult
Publisher: Henry Holt Books for Young Readers
Publication Date: September 29, 2015
Pages: 462
Rating: 4.46/5
Synopsis: Criminal prodigy Kaz Brekker has been offered wealth beyond his wildest dreams. But to claim it, he'll have to pull off a seemingly impossible heist:
Break into the notorious Ice Court (a military stronghold that has never been breached)
Retrieve a hostage (who could unleash magical havoc on the world)
Survive long enough to collect his reward (and spend it)
Kaz needs a crew desperate enough to take on this suicide mission and dangerous enough to get the job done – and he knows exactly who: six of the deadliest outcasts the city has to offer. Together, they just might be unstoppable – if they don't kill each other first.
Reviews: The Book Smugglers / Fantasy Book Review / The Guardian / Queen of Contemporary
Stores: Barnes & Noble / Indigo
Other Links: Wikipedia – Six of Crows / Wikipedia – Leigh Bardugo / Leigh Bardugo Bio
---
Caraval by Stephanie Garber
This book I've heard a little less about, but every single time I go on Instagram I see at least ten pictures of this book, and a ton of people raving about it. It sounds interesting, a little different than what I usually read, so I'm pretty excited to (hopefully) join the fan-base.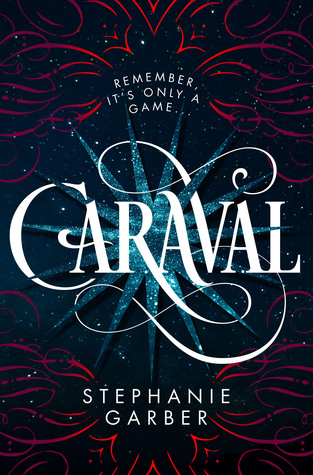 Genre: Fantasy, Young Adult, Romance
Publisher: Flatiron Books
Publication Date: January 31st 2017
Pages: 407
Rating: 3.95/5
Synopsis: Remember, it's only a game…
Scarlett Dragna has never left the tiny island where she and her sister, Tella, live with their powerful, and cruel, father. Now Scarlett's father has arranged a marriage for her, and Scarlett thinks her dreams of seeing Caraval—the faraway, once-a-year performance where the audience participates in the show—are over.
But this year, Scarlett's long-dreamt-of invitation finally arrives. With the help of a mysterious sailor, Tella whisks Scarlett away to the show. Only, as soon as they arrive, Tella is kidnapped by Caraval's mastermind organizer, Legend. It turns out that this season's Caraval revolves around Tella, and whoever finds her first is the winner.
Scarlett has been told that everything that happens during Caraval is only an elaborate performance. Nevertheless she becomes enmeshed in a game of love, heartbreak, and magic. And whether Caraval is real or not, Scarlett must find Tella before the five nights of the game are over or a dangerous domino effect of consequences will be set off, and her beloved sister will disappear forever.
Welcome, welcome to Caraval…beware of getting swept too far away.
Reviews: NPR / Kirkus Reviews / The Book Smugglers
Stores: Indigo / Barnes & Noble
Other Links: Caraval Wiki
---
Passenger by Alexandra Bracken
THIS. BOOK. KILLS. ME. I've been trying to read this books for months, but everytime I go to read it I talk myself out of it. I'm really worried that I'm setting the bar too high, so I get really worried about reading it, but this month I'm going to try to force myself.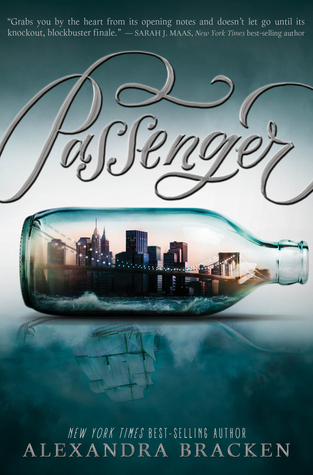 Genre: Fantasy, Young Adult, Science Fiction, Historical Fiction, Romance
Publisher: Disney-Hyperion
Publication Date: January 5th 2016
Pages: 496
Rating: 3.83/5
Synopsis: Passage, n.
i. A brief section of music composed of a series of notes and flourishes.
ii. A journey by water; a voyage.
iii. The transition from one place to another, across space and time.
In one devastating night, violin prodigy Etta Spencer loses everything she knows and loves. Thrust into an unfamiliar world by a stranger with a dangerous agenda, Etta is certain of only one thing: she has traveled not just miles but years from home. And she's inherited a legacy she knows nothing about from a family whose existence she's never heard of. Until now.
Nicholas Carter is content with his life at sea, free from the Ironwoods—a powerful family in the colonies—and the servitude he's known at their hands. But with the arrival of an unusual passenger on his ship comes the insistent pull of the past that he can't escape and the family that won't let him go so easily. Now the Ironwoods are searching for a stolen object of untold value, one they believe only Etta, Nicholas' passenger, can find. In order to protect her, he must ensure she brings it back to them—whether she wants to or not.
Together, Etta and Nicholas embark on a perilous journey across centuries and continents, piecing together clues left behind by the traveler who will do anything to keep the object out of the Ironwoods' grasp. But as they get closer to the truth of their search, and the deadly game the Ironwoods are playing, treacherous forces threaten to separate Etta not only from Nicholas but from her path home… forever.
Reviews: The Guardian / New York Times / Perpetual Page Turner
Stores: Indigo / Barnes & Noble
Other Links: Alex Bracken – Wikipedia / Passenger Series / Alex Bracken Bio
---
If I manage to finish all of those (I have exams this month, so I don't know how much time I'll have), these are the books I'll try to read:
---
Crooked Kingdom by Leigh Bardugo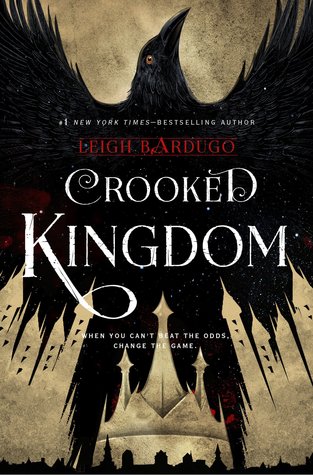 Genre: Fantasy, Young Adult
Publisher: Orion Children's Books
Publication Date: September 27th 2016
Pages: 536
Rating: 4.62/5
Synopsis: When you can't beat the odds, change the game.
Kaz Brekker and his crew have just pulled off a heist so daring even they didn't think they'd survive. But instead of divvying up a fat reward, they're right back to fighting for their lives. Double-crossed and badly weakened, the crew is low on resources, allies, and hope. As powerful forces from around the world descend on Ketterdam to root out the secrets of the dangerous drug known as jurda parem, old rivals and new enemies emerge to challenge Kaz's cunning and test the team's fragile loyalties. A war will be waged on the city's dark and twisting streets―a battle for revenge and redemption that will decide the fate of the Grisha world.
Reviews: Book Spoils / Read at Midnight
Stores: Indigo / Barnes & Noble
Other Links: Leigh Bardugo Wikipedia / The Grishaverse Wiki
---
Wayfarer by Alexandra Bracken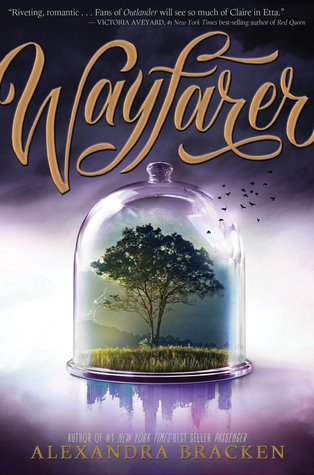 Genre: Fantasy, Young Adult, Science Fiction, Historical Fiction
Publisher: Disney-Hyperion
Publication Date: January 3rd 2017
Pages: 532
Rating: 3.91/5
Synopsis: All Etta Spencer wanted was to make her violin debut when she was thrust into a treacherous world where the struggle for power could alter history. After losing the one thing that would have allowed her to protect the Timeline, and the one person worth fighting for, Etta awakens alone in an unknown place and time, exposed to the threat of the two groups who would rather see her dead than succeed. When help arrives, it comes from the last person Etta ever expected—Julian Ironwood, the Grand Master's heir who has long been presumed dead, and whose dangerous alliance with a man from Etta's past could put them both at risk.
Meanwhile, Nicholas and Sophia are racing through time in order to locate Etta and the missing astrolabe with Ironwood travelers hot on their trail. They cross paths with a mercenary-for-hire, a cheeky girl named Li Min who quickly develops a flirtation with Sophia. But as the three of them attempt to evade their pursuers, Nicholas soon realizes that one of his companions may have ulterior motives.
As Etta and Nicholas fight to make their way back to one another, from Imperial Russia to the Vatican catacombs, time is rapidly shifting and changing into something unrecognizable… and might just run out on both of them.
Reviews: The Eater of Books / The Perks of Being a Book Freak / Stories for Coffee / Kirkus Reviews
Stores: Barnes & Noble / Indigo
Other Links: Alex Bracken – Wikipedia / Passenger Series / Alex Bracken Bio
---
Turtles All the Way Down by John Green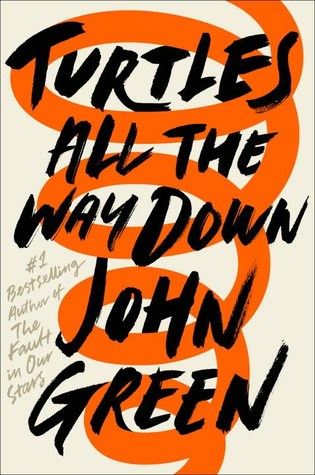 Genre: Young Adult, Contemporary
Publisher: Dutton Books for Young Readers
Publication Date: October 10th 2017
Pages: 290
Rating: 4.15/5
Synopsis: Sixteen-year-old Aza never intended to pursue the mystery of fugitive billionaire Russell Pickett, but there's a hundred-thousand-dollar reward at stake and her Best and Most Fearless Friend, Daisy, is eager to investigate. So together, they navigate the short distance and broad divides that separate them from Russell Pickett's son, Davis.
Aza is trying. She is trying to be a good daughter, a good friend, a good student, and maybe even a good detective, while also living within the ever-tightening spiral of her own thoughts.
In his long-awaited return, John Green, the acclaimed, award-winning author of Looking for Alaska and The Fault in Our Stars, shares Aza's story with shattering, unflinching clarity in this brilliant novel of love, resilience, and the power of lifelong friendship.
Reviews: The Guardian / NYT
Stores: Indigo / Barnes & Noble
Other Links: Turtles All the Way Down – Wikipedia / John Green – Wikipedia / John Green Bio
---
Our Dark Duet by Victoria Schwab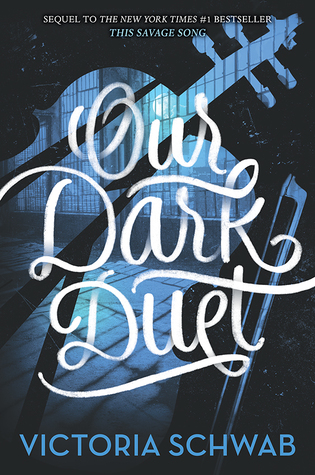 Genre: Fantasy, Young Adult
Publisher: Greenwillow Books
Publication Date: June 13th 2017
Pages: 510
Rating: 4.28/5
Synopsis: THE WORLD IS BREAKING. AND SO ARE THEY.
KATE HARKER isn't afraid of monsters. She hunts them. And she's good at it.
AUGUST FLYNN once yearned to be human. He has a part to play. And he will play it, no matter the cost.
THE WAR HAS BEGUN.
THE MONSTERS ARE WINNING.
Kate will have to return to Verity. August will have to let her back in. And a new monster is waiting—one that feeds on chaos and brings out its victims' inner demons.
Which will be harder to conquer: the monsters they face, or the monsters within?
Reviews: Kirkus Reviews / The Illustrated Page / The Bandar Blog
Stores: Barnes & Noble / Indigo
Other Links: Victoria Schwab Wikipedia / Victoria Schwab Bio / Victoria Schwab Blog
---
So that's it for my January TBR! Let me know what books you're planning on reading this month! Thanks for checking out my blog, follow for more reviews, recommendations, and discussions.
xx Ella
Follow Me!
Instagram / Twitter / Tumblr / GoodReads / 8tracks